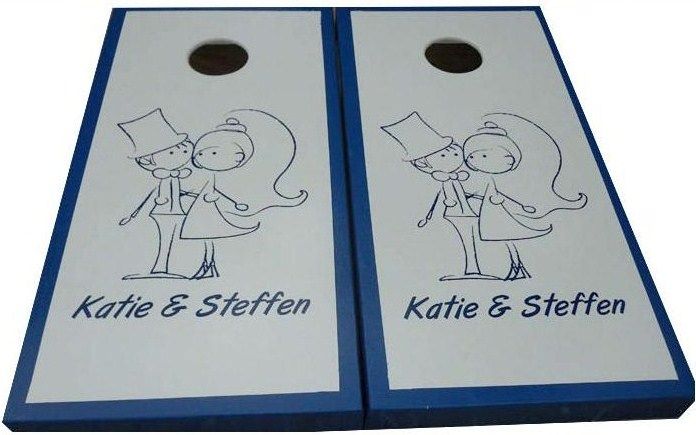 Cornhole.  Do you know what it is?  If not, you probably think this is a pretty absurd topic to be mentioning on a bridal website.  If you do know what it is you probably fall into one of two camps: "So what – who cares?" or "Brilliant!"
If you haven't made it to the "Brilliant!" side yet, let me help you get there.
Cornhole can solve three wedding planning dilemmas – what to do for your bachelorette party, how to make your rehearsal dinner special, and what to buy for the men in your wedding party.
And best of all…all three problems will be solved super inexpensively.
What To Do For Your Bachelorette Party  
Bachelorette parties can be tricky.  It seems like they are all the same.  If you have been to one bachelorette party, you have been to them all.  Unless, of course, you are the bride.  However, that doesn't negate the importance of making the party enjoyable for your girls too.
How can you spice things up a bit?  Make the party unique?  Play cornhole.
Cornhole can be an appetizer for the main course.  Or, it can be the entire party.  Here are some ways to make it fun:
Have special boards made to commemorate the night.  Each guest can sign the boards and offer marriage tips for the new bride.
Have special rules to make the game more unique.  For example, every time a player scores a hole-in, she has to offer up a funny or embarrassing story from her own wedding/marriage (or for the single ladies…a wedding she has been to).
Create a cornhole tournament.  Choose the teams ahead of time and intentionally pair strangers together.  Help both sides of the family get to know each other.
Turn the match into a drinking game.  For drinking game ideas, check out this article.
How To Make Your Rehearsal Dinner Special
Rehearsal dinners are very important.  You might think the rehearsal is the important part, but you'd be wrong.  The dinner is probably the first time your extended families have really had a chance to mingle.  Don't brush off the importance of the night; instead, embrace it.  Don't rush through the meal so you can race off to finish last-minute details for the big day.
How about serving up a few rounds of cornhole after the rehearsal dinner?  It will help all your guests bond in a relaxed, fun environment.  Plus, everyone will probably appreciate the opportunity to shed the pent up stress that has no doubt trickled down to everyone in the wedding party by now.
Paint some boards in your wedding colors.  Or make your engagement photo larger than life by having it added to a custom set of boards.
What To Buy For The Men In Your Wedding Party
Note, I didn't say "groomsmen;" I said "wedding party."  Cornhole is enjoyed by everyone – no matter what their age.  A cornhole set would be the perfect gift for your ring bearer, ushers, groomsmen, and fathers.  Heck, you could even buy one for the preacher!
Best of all, if you buy cornhole sets as wedding party gifts, you can do one-stop shopping.  You don't have to waffle back and forth about who would like what.  Get the same thing for everyone and be done.  You can go simple and buy boards with a generic paint job.  Or, you can add a bit of originality and get custom boards for each person, depending on their preferences.  After all, you can have anything painted on a board.
Making Cornhole Fit Into Your Budget
Cornhole boards are like cars – there are luxury models and there are not-so-luxurious models.  Either way, you are bound to find something that will fit into your budget.  If you are looking for custom cornhole boards, there are lots of online suppliers.  You can get a deluxe set with top-notch artwork.  Or, you can get a plain wood set to customize on your own.
But wait – it gets even better.  You can build your own cornhole set and save a bundle.  I made a set last week and it cost less than $30.  You could even hire a local carpenter to throw something together for you and it still won't cost an arm and a leg.
There you have it.  Three wedding planning dilemmas solved by cornhole!
Attached Images:
 

License: Image author owned
Guest author Carli Greiman recently hosted a cornhole themed bachelorette party and it was a huge success.  Everyone had a great time.  The bride even mentioned bringing the boards back out at the rehearsal dinner.  Carli can't wait to see if she actually does it!

————————————————————————–
Featured Image source: www.charlottesvilleweddingblog.com